Germany is one of the most beautiful countries all over the world. Its global presence has sustained through the years boasting the wealthiest economy in all of Europe and the fifth largest in the whole world. Aside from offering free education to its local residents, the country is also able to support a strong market encouraging the availability of high-paying positions across all industries. With its booming economy, Germany has remained to be one of the most appealing countries to live and work in: a fact that has continuously enticed the attention of the many young and skilled professionals all over the world. Let's talk everything about Germany job seeker visa to make your visa process successful…
WHY WOULD I WANT TO APPLY FOR A JOB SEEKER VISA?
With its flourishing economy, Germany still suffers from a shortage of skilled workers across its sectors and industries. This includes positions in technical professions such as engineers and IT specialists. Health specialists are also very much needed.
The job seeker visa entitles you to stay in Germany for six months and look for a job through a Long-Term Residency Permit.
This temporary visa does not immediately grant you a license to work in Germany. The job seeker visa only provides you a short-term permit that entitles you to visit the country and look for a job within a maximum period of six months.
At the end of six months, you will be granted a Germany Work Visa/ Permit if you are able to successfully land a job. This visa/permit will now grant you protection to live in the country as you work there. Otherwise, you are required to return to your country of origin. Get your free Germany job seeker visa assessment.
2. HOW DO I KNOW IF I AM ELIGIBLE TO APPLY FOR A JOB SEEKER VISA?
There are no point-based tests necessary to get a German Job Seeker Visa. However, in order to be eligible, you are required to have a:
a) Bachelor of Master's Degree from a German university or an equivalent foreign degree
b) 5-year experience in your related field of study at a minimum
c) Financial proof to cover living expenses during your stay in Germany
d) Insurance (travel/ medical) within your entire stay in Germany or until you are granted your Work Permit
e) 16 years of regular education instead of 4 years Bachelor's degree or 3 years Bachelor's degree with Master's degree (if you are an applicant from the Mumbai or Delhi region)
f) Proficiency in English (basic command in the German language is an edge for survival in the country.)
3. WHAT DOCUMENTS SHOULD I PREPARE TO SUPPORT MY ELIGIBILITY?
Upon confirming your eligibility, you need to prepare the necessary documents that will be attached to your application.
This portion should provide a handy checklist to avoid rejection of your application in terms of non-compliance of documents. Therefore, it is important to secure all of them before applying.
1. Valid passport (issued in the past 10 years with validity for at least 12 months after intended schedule of return)
2. Copy of your passport's data page
3. 3 passport pictures based on biometric specifications
4. A cover/motivation letter that contains the following:
i. Purpose of seeking a job in Germany
ii. Plans to be taken to land a job
iii. Time needed/estimated to secure a job
iv. And other information concerning job application during your stay
NOTE: The letter should also bear back up plans if job search in Germany is unsuccessful.
5. Diploma of your degree (or any other proof of any academic qualification from a German or equivalent). Also include certifications from previous work experiences.
6. CV showing educational and employment details
7. Proof of accommodation in Germany (where you will be staying during your visit)
8. Proof of financial capacity to cover the living costs during the time of your stay in Germany:
i. Verpflichtungserklärung (formal obligation letter) by a sponsor living in Germany
ii. Bank account statement, or
iii. Blocked bank account
9. Proof of personal status in your home country
i. birth certificate,
ii. marriage certificate and others (translated in English)
10. Copy of health insurance
11. Minimum 3.5 lakhs in liquid cash
12. Referral Letter
13. Proof of personal status in India (marriage, birth certificate etc)
NOTE: Presenting these documents is not sure guarantee for approval and granting of a German Job Seeker Visa. The sole decision rests entirely upon the consular officer.
4.HOW AND WHERE DO I SUBMIT MY APPLICATION?
The last part of the application process is to fill out the form for the job seeker visa provided by your German Embassy office.
Upon submitting the form, you will be booked a schedule for interview. Nail your Germany visa interview with tips from experts
5. SO, WHY APPLY FOR A JOB SEEKER VISA?
1) Long-term residence permit that allows you to look for a job for 6 months.
2) Enables a simpler way to secure a work visa by providing opportunities for interview and land employment in a job that fits your skills/profession
3) Employment Visa sponsorship by employer
4) Visa validity dependent on employer
5) In comparison to there EU countries, quick visa decision
6) Permanent residence permit after 33 months for EU Blue Card holders (or after 21 months if you prove language skills under B1 level of CEFR/ German language).
In short, your chance to be granted a Germany job seeker visa is based on a number of things: your background, documents, application form, and the interview.
If you want to know more about your Germany Job Seeker Visa application, Radvision World Consultancy can help to plan and prepare for your application.
CONCLUSION
Today is the day to start building your dreams in the land of invention and innovation Be part of a major industrial nation with one of largest economies. Make time to carefully plan your activities, follow the steps provided, and prepare for a comprehensive application.
With its current 7% unemployment rate, Germany assures you of endless opportunities for career growth and progress. Certainly, there is no better way than to celebrate your youth, energy, and future in one of "the ten most livable cities" all over the world.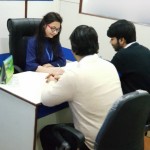 About Sneha Kapoor
Sneha Kapoor is a senior case manager at Radvision World, a certified and trustworthy immigration agency in Delhi for for overseas immigration process from India.
Twitter •