Best Hong Kong Immigration and Visa Consultants in Delhi, India
With our ISO 9001:2015 certification, RadVision World Consultancy are the best Hong Kong immigration consultants in Delhi. Whether you wish to holiday in Hong Kong or move there we are here to help. Applying for a Hong Kong visa can be a tedious process. You have to be aware of multiple details of the immigration process. Our consultants are professionals that are experts in this domain. With in-depth knowledge of the requirements for visas, we provide support and professional advice every step of the way. At Radvision World we understand that you expect more from consultants than just some help filling forms. The reason we are the best at our jobs is that we have a personalized approach. With over 10,000 happy clients, you know you can trust our consultants to get you where you need to go.
As a leading Hong Kong immigration consultancy services agency, we ensure quality checks from our side. Each application and document is verified multiple times. After the verification process, we file all the paperwork. Once the application for a Hong Kong visa or immigration program is filed, we provide regular updates to our clients. We will also help you in finding the appropriate program through which you'll more likely receive your visa. Our agents will be available to you throughout and even after the application process has consummated. Further, you can even get the breakdown of costs involved in the entire process.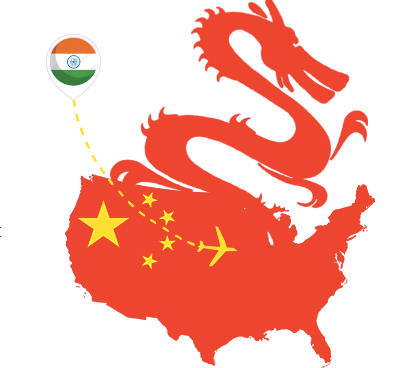 Why is Hong Kong Best Country for immigration for Indians?
Everyone is aware of the leaps that China has taken in the recent years to become a dominant superpower. With the rise of multiple multinational companies, the lifestyle of people has improved substantially. Of course, Hong Kong is fairly distinct from mainland China. For one, it is a completely democratic and secular part of China. Further, the influence of the mainland has been kept to a minimum. This has helped Hong Kong in gaining a diverse demographic.
Though Hong Kong is one of the most expensive cities, it still provides a better lifestyle than most developed countries. Further, staggering numbers of multinational companies have their hubs and offices in Hong Kong, thus there isn't any lack of job opportunities. Similarly, you will also have a substantial amount of options for finding accommodation. You can easily rent expensive houses or affordable apartments. You'd also be pleased with the Expat community in Hong Kong. Many people in Hong Kong are immigrants, hence they know the feeling of going to a new place. The community is supportive and will help you in integrating easily into the society. While most people in Hong Kong speak Cantonese, most are also well versed in English.
Top reasons why choose Hong Kong to immigration
Hong Kong is one of the biggest hubs for banking and finance in the world. All major multinationals have offices here. Hong Kong also has some of the highest salaries in the world making it a popular destination for Indians. If you decide to study in Hong Kong you can take advantage of the many companies that have offices there to get a job.
Though the city has the highest density of skyscrapers in the world, almost 40% of Hong Kong has protected national parks. The beautiful beaches and scenic view make the city an excellent place to call home.