Best Canada Immigration and Visa Consultants in Delhi to Migrate to Canada from India
Radvision World is the #1 trusted Canada immigration and visa consultancy located in Delhi, in India. If you are looking for an immigration consultants company for Canada then Radvision World is a one-stop visa services provider for the popular visa categories like PR (Permanent Resident) visa, tourist visa, student permit visa, working visa, and business visa in Canada. Apply for and Immigration visa now to migrate, live, and work in Canada.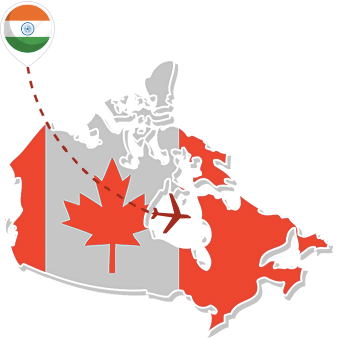 Dream destination Canada?
Let's check out which visa suits you best!
Why Canada is an Immigrant Magnet?
Canada has a very strong and stable economy.  Also, it has the third largest oil reserves with more than 173 billion barrels.
Canada also offers multiple immigration streams that include but aren't limited to:
Express Entry Program

Federal Skilled Worker Program
Federal Skilled Trades Program
Canadian Experience Class

Provincial Nominee Program (PNP)
Family Nomination
Why it's the best time to immigrate to Canada?
Immigrating to Canada couldn't have been easier than it is now. An aging population is a predicament faced by many countries like Canada and Japan. To counterbalance the impact of this aging population, Canada is trying to take in as many immigrants as possible. The minimum CRS (Comprehensive Ranking System) score, at which ITAs (Invitation to apply) are offered, has dropped sharply. Along with this, the immigration system has been reformed entirely and new streams have been opened.
A merit-based immigration system helps Canada in taking in applicants who can contribute to their economy. Further, the authorities take appropriate measures to help immigrants with settling down in Canada. Also, the constantly growing economy ensures job security for most of the population. Whether it be work, education, business or a better lifestyle, Canada offers an amalgam of each of these things. Labour market norms highly favor the employees and workers. Further, you'll be able to avoid all the racism you'll otherwise have to deal with in some other developed countries.
Canada Visa Services
Radvision World Consultancy has been an eminent force in the immigration industry and has helped over 10,000+ clients with their immigration paperwork.
If you want to immigrate to Canada, then this would be the best time. An aging population along with liberalized immigration laws will help you immensely. Further, changes made to various streams make it easier for many applicants to immigrate to Canada. For example, the points offered, for the job offer from a Canada based employer, have been substantially curtailed.
Still, applicants can easily get muddled among the vast amount of paperwork they need to file for Canada immigration. This is why we're here. Our immigration agents can help you through all the paperwork and even aggrandize your chances of receiving an ITA (Invitation to Apply.)
Staying on top of changes to immigration norms and filing applications on time is of paramount importance. We understand this and take all appropriate measures to help our clients through the entire Canada immigration process. Further, we are a Canada immigration consultancy with affordable rates. For more detailed information contact Radvision World Consultancy. It hires dedicated and experienced immigration specialists who are capable of handling all types of visas for Canada immigration. Take steps towards a better future and apply for Canada visas by calling us at  011-40049550.