UK Immigration and Visa Consultancy in Delhi, India
Why Immigrate to the United Kingdom from India?
The UK is a heaven for anyone looking for a better standard of living and growth opportunities. In fact, most people immigrate to the UK for better work opportunities. The UK has a very strong economy and an unemployment rate of 4.2%. Further, large enterprises in the UK have increased the demand for subject matter experts and specialists.
According to fullfact.org, 50% immigrants to the UK were there for work-related reasons and 27% for pursuing their studies. The UK attracts workers from all over the world due to its excellent labor laws that protect the employees. Also, income inequality is lower than in most other countries. Cultural diversity also helps immigrants in easily integrating into the society.
As English is a second language in many countries, language proficiency isn't that big of an issue for most immigrants. Your language proficiency is tested through tests like IELTS and TOEFL. At the time of your immigration appointment, you may have to show the results to the interviewer.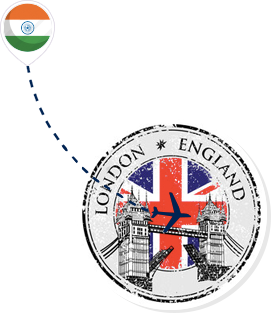 STILL, DO NOT KNOW ABOUT UK VISAS? CHECK OUT WHICH VISA SUITS YOU THE BEST
Application Process for the UK Immigration Visa from India
When it comes to UK immigration most applicants apply for a work or study visa, so let's look at the application process of these two: A Tier 1 or Tier 2 Work Visa can be applied for by the applicant. In case you need to find a job, you can look for the 'shortage list' released by the government of UK. This list contains information about available jobs in multiple fields. UK Student visa Tier 4 is essential for any candidate looking to pursue a full-time academic course in UK. Candidates below 16 can apply for a Tier 4 (child) visa. You can even apply for family nomination, entrepreneur, and business visa. After selecting and applying for a particular visa, you will get an appointment date for an interview with UK immigration authorities. During this interview, you'll have to provide all necessary documents. Most claims that you have made on your application form need to be corroborated with documents. After the interview, you'll be provided with an acknowledgment receipt. After submitting documents, you need to go for biometrics.
Eligibility and Requirements for the UK Different Visas from India
For most visa categories, you need to fulfill the conditions mentioned below:
You must be 16 or above for a student visa and above 18 for a work visa
For work visa you need to get more than 95 points in Tier 1 or Tier 2 points test. Students need to enroll themselves into a UKBA approved institution before applying for UK student visa
Language Proficiency in English depicted through tests like IELTS and TOEFL.
Candidate must be from a country not included in the European Economic Area (EEA).
Have all the prerequisite documents, certifications and work experience to fill in the job position or enroll into the course and enter UK.
Have enough funds to support self throughout the entire whole course or in case of work visa for the first few years in UK.
Character and health certificates proving your qualification
Why Is Radvision World The Best Immigration and Visa Consultancy?
We at Radvision World Consultancy provide top-notch UK visa services. UK visas we provide services for include but aren't limited to:
Student Visa
Work Visa
Entrepreneur visa
Family visa
Dependent Visa
Travel Visa
Further, as a UK visa consultancy, we will:
Help you in identifying the visa that you should apply for.
Guide you through the entire application process
Help you in preparing for the appointment.
Guide you through language proficiency tests like IELTS and TOEFL
Help you in gathering all supporting documents
Staying up to date about the visa you have applied for
Contact us
for UK Visa services today. Call us at O11- 40049500
.
The Top Benefits of Obtaining UK Visa from Radvision World Visa Services for the UK in India
There are immense benefits of a UK visa. A few of them have been listed below:
Tier 1 and Tier 2 applicants can live in the UK for 5 years and 14 days. On the other hand, students are given 2 years to live and work in the UK.
The file extension for the stay.
Do part-time work if circumstances demand it
Bring dependents like children and spouse along with you.
Travel to and from the UK.