Best Immigration and Visa Consultancy Services for Malaysia
Looking for a Malaysia immigration visa consultant and jobs consultancy from India? Radvision World is an ISO 9001: 2015 Certified Immigration Agency to apply for different types of Malaysia visa issued by the Malaysian Government for Indian. If you need help with Malaysia single entry visa, multiple entry visa, transit visa, and other types of visa in Malaysia, feel free to consult with our immigration experts. Malaysia is a paradise for immigrants. You won't be lost in translation as most people speak English. Integrating into the society isn't that big of a problem as there is already a large immigrant community in Malaysia. Various entertainment options such as adventure parks, luxury restaurants, and shopping complexes are available.
To enjoy everything Malaysia has to offer, you need money and for the money you need employment. The good thing is that various multinational companies and startups are established in Malaysia. Hence, you can find specialized jobs that offer more salary. Malaysian companies are famous for staying at the forefront of technological innovation. Hence, not only will you earn more, but will also be able to learn and work with the latest technologies.
While in neighboring countries like Singapore finding accommodation is difficult, in Malaysia it becomes fairly easy. You can even buy your own house at the very affordable rate.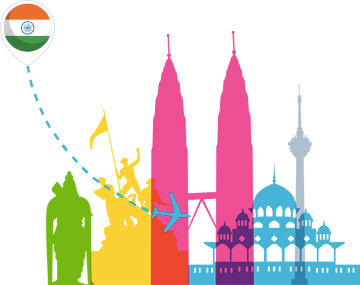 Malaysia Immigration and Visa Application Process to Obtain a Visa Quickly
For immigrating to Malaysia, you need to apply to a particular visa category. Different visa categories have different paraments for eligibility. For immigrating, the most commonly used visa type is a work visa.
Most work visa programs will require a minimum educational qualification along with prior work experience. This does not apply to the MM2H visa program. If you don't have an excellent profile or even a job offer then you should consider this program. The best thing about this visa is that you can renew it multiple times. Hence, despite your educational qualification and work experience, you'll have a fair chance at living the life of your dream. An MM2H visa application is processed within 60 days.
For immigrating to Malaysia, you can even look into transit and single entry visa types. To know more or to find the program that is perfect for you, feel free to contact us about Malaysia visa services.
Eligibility Criteria for Malaysia Immigration Visa for Indians
For most visa categories especially multiple entry visas, you need to fulfill the conditions mentioned below:
Passport that is valid for next 6 months
Travel documents along with documents verifying information provided by you on the Malaysia visa application form.
Be eligible for applying to the particular visa category
Show proof of funds to support self along with any dependents for the first few years after immigrating.
Character certificate from Police station and health certificates from authorized professionals.
Benefits of a Malaysia visa include:
Live, work and travel in Malaysia.
Study in any Malaysian institution.
File for extension for yourself and your dependents.
File suitable visa applications for dependents.
Great health facilities along with low income tax.
Why Radvision World Is Best Malaysia Immigration and Visa Consultant
Radvision world has been a pioneer in the Malaysia visa service industry. Our Malaysia visa consultants file each and every visa application with clinical precision. We know the importance of a visa for our client and hence we endeavor to provide the best Malaysia visa services to them.
For immigration, we provide Malaysia visa service for the following types:
Multiple Entry Visa
Single Entry Visa
Transit Visa
Study Pass
Employment Pass
Family Nomination
Dependent Visa
Contact us
for Malaysia Visa services today. Call us to
+91 7065027959
for quick help!