Best Germany Immigration and Visa Consultants in Delhi, India
Getting a job and immigrating to another country is fraught with enormous amounts of paperwork and limited success. Often the papers required are not easy to come by, and even one small mistake can result in the rejection of your visa application. That is why it is a good idea to consult an expert, and our company is the best. RadVision helps you with this paperwork with our team of expert consultants that dedicated to assisting people to immigrate and find employment in Germany.
The process of getting a visa can be tiring, time-consuming, stressful and confusing. It can also be expensive, and we know that for many this is not a smooth move to make. We understand that this is not just a holiday but a big life decision and aim to make the process of immigration as easy and stress-free as possible.
Hence, we find it necessary to give personal time to each client to get them ready for this big move. Our consultants have experience, and they are prepared to devote as much time as required to each client. Our approach of giving personal time to our clients and a team of immigration experts make us unbeatable in the German immigration and jobs visa consultant market in Delhi.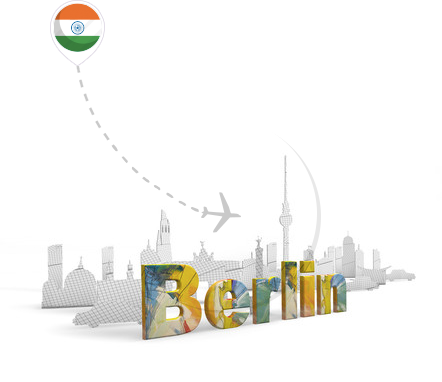 Work in Germany on a Jobseeker Visa
If you want to live in the economic engine of the European Union, then Germany should be your destination. The country has the lowest youth unemployment rate and one of a kind manufacturing sector. Students can easily enroll in some of the best universities around the globe. Further, the vocational courses in Germany are world renowned. Hence, instead of wasting away time, students will be able to perfect a skill or two.
In regards to jobs, Germany has strict labour laws that protect the workers. In fact, the total working time in offices is less than that of UK and US. Workers are entitled to both maternity and paternity leaves. A maternity leave of 14 weeks is granted at 100% pay. German healthcare and social welfare programs are of the highest standards. Health insurance is mandatory for all citizens and permanent residents.
Further, communities are closely knit together and enjoy various festivals throughout the year. Also, Germany is a secular country and enables you to practice your religion. Germany immigration programs, to the least, look at the following arguments before granting a visa or permanent residency:
Financial Stability of the Individual
Health and Travel Insurance
Language Proficiency
No Criminal records
Familiarity with German culture and way of life
Why So Many Immigrants Choose Germany in India
Germany is notoriously known for the amount of paperwork they include in every procedure. Hence, the immigration procedure is lengthy and requires immigrants to go through various forms and attach various documents. To make things easier on yourself, you can contact us. Our agents will help you with all the paperwork. Following a personalized approach has enabled us to become a leading Germany immigration consultancy. Each client is provided with as much personal time as they require. Also, all our Germany immigration agents have all the required certifications.
We not only focus on the paperwork but also on preparing you for a better life in Germany. We'll help you in understanding the culture and customs of the country, thus enabling you to easily integrate with the community.
Types of Germany Immigration Visas to Apply
1. Tourist or visitor visa: This is a visa for people that want to travel to Germany for sightseeing or visiting family or friends. 2. Job seeker visa: If you are planning to go to Germany and look for a job this is the visa for which you have to apply. It is also known as a jobs visa. 3. Working visa: If you have already got a job in Germany, this is the visa you need. 4. Business visa: If you have business related work in Germany for more than 90 days in 6 months you can apply for this visa. 5. Training or internship visa: This is a visa for people from third-world countries to attend a training or an internship in Germany. 6. Medical treatment visa: If you have an illness and wish to seek treatment in Germany then this visa is for you.
Visa Application Process for Germany from India
After you have completed your application form, you will have to make an appointment with the German visa application centre. Once there you have to ensure all your documents are stacked in the order mentioned in the checklist and that you have completed and signed your form. The papers and application you submit will then be verified. If your application is incomplete or a document is missing, this whole process will be restarted.
Once your papers have been checked, you will receive a printed copy of your application that you will sign and will then be required to pay for the visa. Once this is done your biometric details will be collected. This is the last step in the process, and you will then have to wait to hear back from the Consulate when the visa is processed.
Germany is one of the best countries in Europe and indeed the world. The people are friendly, and as a thriving and growing economy, they have many employment opportunities. However, as one of the most sought-after countries for immigration, their visa process is relatively complicated and thorough. These are the reasons why it is a good idea to have an expert by your side to help you through the process and as the best German immigration and visa consultants in Delhi, we are ideal to help you plan your future.