BEST UK STUDENT VISA CONSULTANT IN DELHI, INDIA
Every year over 4000 Indian students pursue their undergraduate and postgraduates' studies in the UK. This due to the various courses offered in the UK and a flexible lifestyle that everyone dreams to have. Not only is the UK famous for there world class courses but also for their friendly and welcoming environment.
It is well known that the UK visa is not easy to get in fact every document you submit will be cross-checked and carefully viewed, any missing document could lead to a visa rejection. The cost of visa application from the outside UK is GBP 335.
Radvision World Consultancy is the best when it comes to UK student visa's, providing you with everything you need to know and prepare before submitting your documents to the authorities. Radivision helps you prepare for your IELTS, Interview and in gathering documents. All this while keeping the cost to the minimum. Radivision is the best Uk visa consultant with 97% success rate.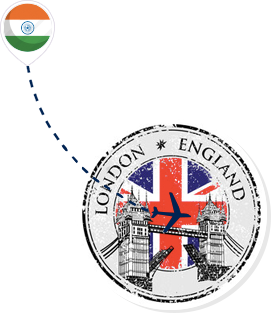 POPULAR STUDENT CITIES
10 of the 100 best student cities worldwide are in the UK, London has been credited as the best city for students in 2018. Cities like Newcastle, Liverpool, Manchester, Bristol, and Brighton sets the UK a class above all other countries when it comes to popular student cities. Those cities offer different lifestyle and experiences. With students all over the world going to Great Britain, it makes studying in the United Kingdom an incredible adventure. You will get the opportunity to meet and learn about different people from every corners of the world while acquiring one of the tops most education. The United Kingdom is one of the most convenient places where you can expect for a young adult to develop his capabilities and be independent.
WORLD-CLASS UNIVERSITIES
Six out of the top 20 universities in the world are based in the UK. This is due to the very high educational standard the educational institutions are being held on by the government. The high level of education and consistency provided by UK universities made the UK the center of attraction to students from all over the world.
AMAZING COURSE CHOICE
UK institutes offer a wide range of courses for all levels of studies. There are over 50,000 courses in more than 25 subjects with their undergraduate being 3 years program in addition to one-year postgraduate courses. Often courses give the students a chance to intern and have the incorporate work placement in their degree. Uk even has courses where you can change from one field to another hence giving you freedom of choosing your career accordingly.
RESEARCH-INTENSIVE UNIVERSITIES
Uk universities are well known for being research-intensive universities. London alone has a combined research income of $820 Million. Students in the UK have often been involved in discoveries that shaped the modern world as we know it. There are countless different scientific research labs and research centers specialized in life-threatening diseases such as cancer-based in the United Kingdom.
ACADEMIC SUPPORT
Uk offers an incredible academic support for the students and staff members with over 4100 public libraries and 65 million books. With courses recorded and provided online, students have the opportunity to review them with lecturers available at all time.
WORKING WHILE STUDYING IN THE UK
There are thousands of job opportunities for students and graduates in the UK. As an international student, you can work up to 20 hours a week while studying. This helps a lot of students to support themselves financially and help them gain the work experience they will surely need in the future. Average student working in the UK earns 400 pounds per month. A lot of students achieve independence when it comes to their monthly allowance, they don't rely on their parents to be the main source of income. This helps the student develop a sense of responsibility and a great stepping stone toward their future.
TYPES OF STUDY VISA IN THE UK FOR INDIAN
For Indians there are three types of student visa that you can apply for depending on what you are studying:
You can apply for short-term study visa if you are doing a short course in the UK, such as doing an English language course, training course or if you are intending to do a research as part of your degree course./
You can't study in a state-funded school or work with the short-term study visa. It's also doesn't allow you to bring any family member. Short-term study visa costs around 96 pounds 6-month visa and 186 for 11 months. Takes up to three weeks to process.
GENERAL STUDENT VISA (TIER 4)
You can apply for a general student visa if you are 16 or over and have been offered a place on a course. There are a few requirements that need to be meet in order for you to get this visa:
Have enough funds to pay for your tuition fees and living costs.
The amount will vary depending on the circumstances.
Are able to communicate in English language
It costs 348 pounds to apply for the visa from outside the UK and you must 348 pounds per person. You are allowed to work and extend your visa.
5. You can apply as early as three months before the start of your course. Process usually takes three weeks.
CHILD STUDENT VISA (TIER 4)
You can apply for Child student visa (Tier 4) if you are aged between 4-17 and want to study in the UK school. in order to qualify for this visa, you must
Have a place on a course
Have a consent of your parent or guardian
Have enough money to cover your course fees and living costs
It costs £348 to apply for a Tier 4 (Child) student visa from outside the UK and you also
have to pay for health care extra charges as part of your application
You can apply as early as three months before the start of your course. Process usually takes three weeks
UK STUDENT VISA REQUIREMENTS
UK student visa process can be a very tiring and long process due to the extra measures were taken by the authorities to ensure all students are genuine about their studies. Using Radvision World Consultancy ensures a smooth process with minimum delays. The requirements for UK student visa are:
Details of your passport such as name, date of birth, expiry date and country of issuance should be clearly stated. Expired copies of the passport should be attached should there be any visa stamps from different countries
A recent photograph
Unconditional offer of a place on a course offered by a licensed tier4 sponsor

You must receive a Confirmation of Acceptance for Studies (CAS) from a university approved by UK Visa and Immigration (UKVI).
Proof of English language proficiency
Proof of having enough financial support for the duration of stay in the UK.

Tuition fees are on average £12,000 per year and you have to show that a minimum of 1200 pounds for each month pursuing your studies in the UK
If you are non-EU/ESS/SWISS student studying what could be considered as a sensitive subject, you may need an ATAS CERTIFICATE.
FREQUENTLY ASKED QUESTIONS ABOUT UK STUDENT VISA
CAN I WORK WHILE I AM STUDYING IN THE UK?
As an international student holding a tier 4 visa. You are allowed to work for 20 hours per week. This only implies if you are currently studying a degree level course at a UK higher education institution for more than 6 months. Students with short-term visas are not permitted to work.
CAN I WORK IN THE UK AFTER I GRADUATE?
Non-EU students who wish to a have a job in the United Kingdom after their graduation must apply for a work permit. There are different types of work permit that you can apply for:
Tier 2 (General) Visa
This is the main immigration way to work in the UK. The visa is usually linked to a specific job and employer.
Tier 1 (Graduate Entrepreneur) Visa
A program for graduates that have a genuine and credible business idea
Tier 5 Temporary Worker
The Tier 5 Visa is specially designed for temporary workers who want to come to the UK for a short time for work experience or to do training, an Overseas Government Language Programme, research or a fellowship through an approved government authorized exchange scheme.
Tier 5 Youth Mobility Scheme
For students from nationalities including Canada, South Korea, Australia, Taiwan, Japan, Hong Kong, New Zealand and lastly Monaco. It is required for them to be between 18 to 30 years old.
WHEN CAN I APPLY?
You can apply for your visa three months before the start of your course. You can apply only after receiving you Confirmation of Acceptance (CAS). If you are not sure about the procedures or have any further questions you can contact Radvision World Consultancy to make sure you don't miss any deadline.
CAN MY FAMILY COME TO THE UK WITH ME?
You will need to meet the UK FAMILY VISA REQUIREMENT in each case. You can bring your family to the UK as tier 4 dependent if you are funded by the government (government sponsored students) and your course is longer then 6 months or you are currently at a postgraduate level of studies. You won't be permitted to bring your family as a tier 4 dependent if you are currently studying in an English language course or a level of study which is below degree level.
WHO CAN I CONTACT WITH QUESTIONS?
All universities in the UK have a region supervisor who you can contact if you have any questions about your course or visa related issues. You can also contact as at info@radvision.com or Call us 011-40049500, 7065027959.