Best UK Student Visa Services Consultancy in Delhi
Top Reasons Why You Should Apply for Student Visas for the UK from India to Study in the UK
Institutions in the UK are highly prestigious and provide excellent opportunities to students. Along with your studies, you can even enjoy the social life that the UK offers. Further, there is an excellent support system set in place to help all international students. Institutions like Cambridge and Oxford make UK one of the top destinations for international students. Inspections are held regularly to ensure that education and infrastructure that students get access to are above standard.
A few higher education courses in the UK are of shorter periods than in other countries. Hence, you won't have to assimilate as many resources and funds to support yourself throughout your study period. For most academic (full time) courses, students are allowed to take other vocational courses alongside.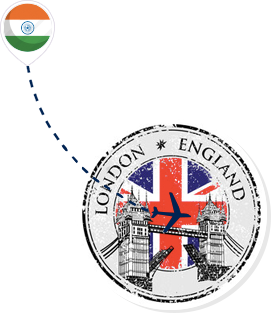 The UK Study Visa Process from India
To study in the UK, you can apply for a UK Visa Tier 4. If you're below 16, then you need to apply for UK Student Visa Tier 4 (Child.)
UK Student Visa Tier 4 will enable you to migrate to the UK at least 1 week - 1 month before the inception of your course. Filling the application form for this visa from the outside UK will incur a cost of GBP 335. You will have to pay the additional amount for filing an application form for your dependents like children, spouse, etc.
You will have to provide the following documents with the application form or during the immigration interview:
A UK Student Visa Tier 4 (Child) will require the approval of parents or legal guardians. If the proof of this approval isn't provided, then the form of the minor will be rejected.
You will have to provide the following documents with the application form or during the immigration interview:
A valid passport
Proof of sufficient funds to support self during the period of your course.
Certificates that prove credentials mentioned on your application form
Proof of admission to a course in a recognized institution which has a valid license, from UKBA, for providing admission to international students.
The UK Study Visa Eligibility Criteria and Requirements to Apply for a Visa for the Indian Students
You must be 16 or above to apply for Tier 4 UK student visa. Else, apply for a Tier 4 (child) visa.
Language Proficiency in English depicted through tests like IELTS and TOEFL.
Are from a country not included in the European Economic Area (EEA).
Have all the prerequisite documents and certifications to enroll into the course and enter UK.
Have enough funds to support self throughout the entire application process.
Have enrollment in an educational institution approved by United Kingdom Border Agency (UKBA.)
Why is Radvision World Consultancy the Best Choice to Apply for a Study Visa for the United Kingdom from India?
The UK is known for its extreme vetting of immigrants. Every document and information you provide will be cross-checked and referenced. Further, the interview process is rigorous. Also, the window of time in which students want the approval of their visa is quite small. And to top it all off, the cost of visa application from the outside UK is GBP 335.
So, if you want to get everything right, contact us. Our UK student visa consultants will guide you throughout the entire application process. We will also help you in:
Preparing for the Interview
Preparing for Tests like IELTS and TOEFL
Gathering Documents
Staying on top of notifications and updates
Minimizing the cost for the entire process
Contact us for UK Student Visa services today. To get immediately helps, call us to 011-40049550
List of the Top Universities in the UK for Study
As a country, UK (particularly Wales and England) has been leading the crusade for higher education standards all over. Universities in the UK are like a cross section of the UK society, which in itself is a multicultural experience, bringing together people from all walks of life. Universities in the UK not only cultivate the academic capabilities of their students, but also give them the opportunity to grow culturally. UK's education system has a sound international reputation and offers unmatched standards of education. A degree earned at any one of the universities of the UK is recognized, accepted, and respected the world over.
UK offers a number of courses that include undergraduate (bachelor) and postgraduate, pathway, and English courses with the most excellent teaching facilities. The courses that are offered at universities in the UK are strictly governed by a central board that ensures uniformity and maintains the high quality and integrity of the courses taught.
Institutions