APPLY FOR A STUDENT VISAS TO STUDY IN THE UNITED STATES
Best US Student Visa Consultant in Delhi, India
United States houses universities like Harvard, Penn State, Stanford, MIT and so on. Hence, it won't come as a surprise that it is the most popular destination for international students. Students covet visas to the US for an opportunity to learn from the best. Further, when it comes to reputation, US degrees are at the pinnacle.
Students also have the opportunity to learn the latest technologies and procedures related to their skillsets. A culturally diverse ambiance and an excellent support network help students in adapting to their new environment. Both, growth and employment prospects are excellent. Further, the unemployment rate is 4.1%, which corroborates the claim that the US has a very strong economy.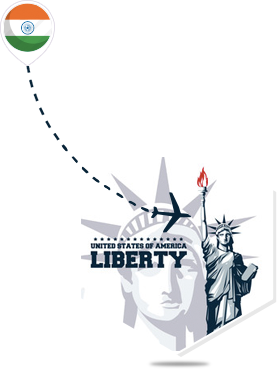 The Application Process for the USA Student Visa
Depending upon the category and type of course, students may have to apply for a F-1 or a M-1 student visa.
F-1 Student Visa
F1 visas are meant for students who want to study a full-time course (or 18+ hours a week) in the United States. Before filing an application for a F1 Student visa, you need to get accepted into a SEVP(Student and Exchange Visitor Program) approved the school. SEVP approved schools and universities meet the minimum requirements set in place by Department of Homeland Security. After this, the institution will provide you with relevant documents that support your approval. You need to attach these documents while filing an application for F1 student visa.
M-1 Student Visa
For attending vocational or nonacademic courses, students should apply for an M-1 visa. One limitation that this visa imposes is that students aren't allowed to work throughout their course of study. Further, students must show evidence of enough funds to pay the fee and support themselves through the entire study period.
Still, vocational and non-academic courses are of shorter length than full-time courses. So financing your studies won't be as much of a problem.
The Requirements for the USA Study Visa to Determine Your Eligibility
Acquire a I-20 From from the Institution in which you have been accepted.
Pay the SEVIS I-901 Fee and acquire the receipt
Important Documents

Certificates received from previously attended institutions
Proof of enough funds to support yourself for at least an year in US
Course Description

A Valid Passport
Health and Character Certificates
Basis English Proficiency checked through tests like IELTS and TOEFL
How Study Visas Help You to Get Employment Opportunities While Studying in the USA
A US education is recognized all over the world and the skills you gain from studying in the US make you very attractive to potential employers.
In the US, there are options to work part-time on campus during your first year of study. International students in the US can work in a job on campus up to 20 hours a week. All US universities also offer extra-curricular activities that provide real-world job experience.
Many students find that their time is better spent taking internships or practical training, which allows them to work for university credit in a job in a related field.
Almost all US institutions have a dedicated career services office so make sure you make use of them during your time at university. There you will find work opportunities advertised, a mentoring program, or even mock interview and assessment centers, all useful experience when applying for jobs.
Many US degrees also build work experience into the program, allowing you to get a valuable hands-on experience of the job you want to do.
Another option that appeals to many students is to broaden their study experience through the semester or summer-long study abroad and exchange programs, offered by most universities as well as outside study abroad providers.
Following graduation, students on an F-1 visa can apply for Optional Practical Training (OPT), which allows them to work in their chosen field for 12-24 months after completing their studies. Beyond that, some companies may even sponsor students for an H1-B Temporary Worker Visa, allowing them to continue living in the USA as long as they work for that company.
The Top Universities in the USA for International Students
The US has always been one of the most popular study destinations for students, and is home to the largest number of international students as compared to other countries. The universities in the US offer an unparalleled social life that helps students grow culturally as well as career-wise.
The country has a well-established and high quality tertiary system for education which offers a multitude of undergraduate, post graduate, associate degrees, PhD, and doctorate courses. As stated in the Times Higher Education World University Rankings, seven of the top ten universities of the world are located in the US. In fact, some universities in the US are ranked among the top 200 in the world. US universities provide the students with a rich and stimulating learning environment. Encouraging cross-cultural understanding, the universities in the US cherish diversity and make sure that the duration of the students' course accounts for a productive experience.
Institutions