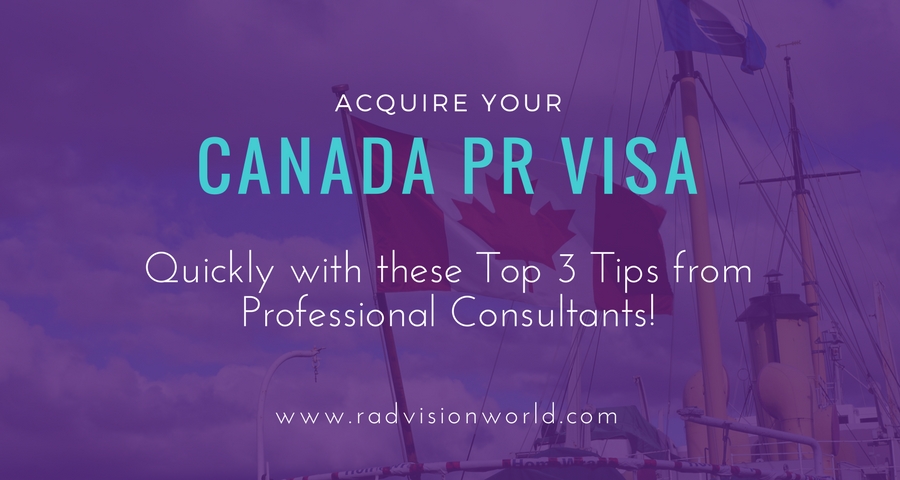 Rising Competition 🙁
Evergrowing competition in immigration has made it more difficult than ever to acquire a Permanent Residency for developed countries like Canada, USA and Australia. For better opportunities and standard of living, people from across the world are applying for Canada PR. Canada has a very liberal policy towards immigration which stems from the problem of their aging population.
This is why, Canada has become a more viable option for people who want to immigrate to a developed country.
Points Based Immigration System 🙂
Canada has a merit / points based immigration system. Express Entry is a great example of this. When applicants apply through the Express Entry program, they are allotted points on the basis of different parameters including job offers, nomination, age and so on.
The more points you have, the better your chances will be of acquiring a Canada PR.
Keeping this in mind, our Canada Visa consultants have compiled a list of tips that can help you in acquiring a Canada PR quickly. These tips have been provided below:
Tip #1: Leverage the Points Based System
In most cases, you'll be applying for a Canada PR through the Express Entry Program. The best thing about this program is its simplicity. You'll be accorded points on the basis of certain parameters, some of which have been mentioned below:
● Age
● Job Offer
● Nomination by family member
● Nomination from a Canadian Province
● Type of Occupation
● Educational Qualification
As you can guess, the younger you are the more points you'll be able to acquire. Job offers don't offer as much benefit as they used to. Last year itself, the amount of points allotted for a job offer from Canadian employer were reduced substantially to provide equal opportunities to everyone.
If you already have family members living in Canada, then you may want to contact them. Also, you can apply for particular Provincial Nominee programs(PNPs.) Nominations from family members and / or provinces can boost your CRS (Comprehensive Ranking System) scores.
Obviously, if you have your occupation and/or education qualification in the STEM (Science, Technology, Engineering and Medicine) field then you'll have an added advantage. PhD students and researchers have additional benefits.
Tip #2: Accurate Information is The Key
This sounds quite obvious but many people can get this wrong. It's not just about accuracy but also about consistency. All documents that you attach should have consistent information. For instance, if you submit both, a copy of driver's license and passport with different birth dates then this could provide grounds for rejection of your application.
We've seen this happen in many cases where applicants apply without any professional help.
Also, you should ensure that information that you're providing is consistent with your information on social media websites. Authorities can look for information about you through social media, and they aren't fond of seeing inconsistencies.
Tip # 3: Prepare Well for Interview
During your immigration interview, the interviewer would ask several questions in regards to the documents you've submitted and information you've provided. It's always a good idea to brush up on the culture and current affairs of Canada before your interview. Interviewers favour applicants who they think will be easily able to integrate in the Canadian society. Just saying, that you should know about Canada, its people, culture and ongoing events.
Do not lie or provide false information during the interview. This can not only get your application rejected but also get you banned from ever applying or acquiring a Canada PR.
Conclusion
We've seen people waste time and money while making mistakes due to their ignorance and lack of knowledge about the immigration system. Express Entry is fairly easy to apply to. Over the past few years, CRS score threshold has significantly declined making it easier for many applicants from around the globe to live their desired life in Canada. Make sure to apply these tips when you apply for Canada PR Visa.
Radvision World Consultancy has helped many through their Canada PR Visa application process. We're a team of highly experienced and certified Canada immigration agents.
To know more about Canada PR visa, feel free to contact us!

About Raj Kishore
I am a digital marketing consultant at Radvision World Consultancy. I've been worked in digital marketing since 2010. My core area of expertise is lead generation and conversion optimization for small & startup businesses.