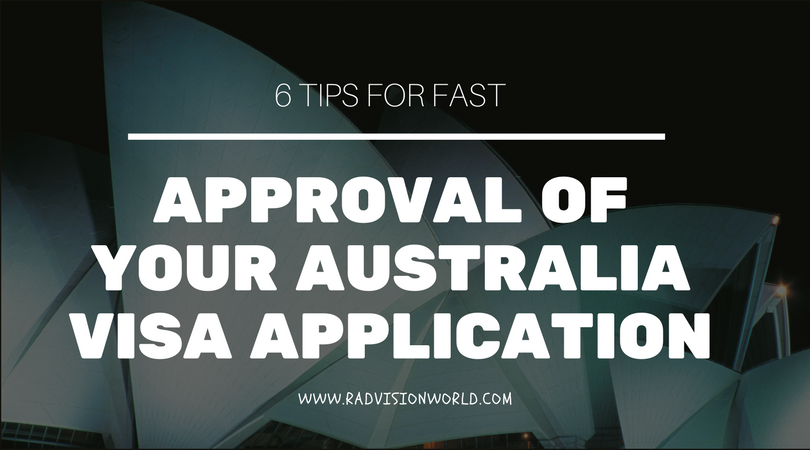 If you relish for a comfortable and high standard life then Australia should be your destination. Like any other country, Australia is also adamant about protecting its citizens. This is why applicants only receive visas after rigorous vetting. Over the past few years, we have gained useful insights through the data collected by our firm. This article compiles most of our findings.
Here are our top 6 tips that will ensure approval of your Australian Visa Application:
Tip #1 Consistency
Any discrepancy found in the information provided by you can lead to your application being revoked. To avoid such a predicament, you should crosscheck information on all the documents attached by you. If you are unsure of a particular information about yourself, then confirm it from your old documents. Immigration authorities are adept at spotting discrepancies and may revoke your application.
Make sure that you cross check your height, age, marriage date, work experience, educational qualification and so on, on all documents that you are going to attach.
You must also set your social media profiles straight. All public records will be referred to by the authorities. If you get an interview with the authorities, then do explain any inconsistency before being asked.
Tip #2 Deadlines and Updates
Staying up to date on the recent changes and deadlines can be arduous. Still, as a candidate, you must stay on your toes throughout the entire process. Do not miss a single deadline for submitting various application forms and documents. Check registered email address each day for notifications from Australian immigration authorities.
Further, documents that have expired will not be accepted. Hence, you need to check the expiration dates of each document before submitting them. Also, some visa applications require you to provide medical and character certificates. Acquire these certificates as soon as possible. Acquiring character certificate from countries you have lived in can be a time-consuming task. We recommend that you garner your character certificate, which can be police records, from countries you have lived in for the past 10 years.
Tip #3 Provide Proofs through Documents and Facts
For acquiring permanent residency or working visa, candidates must provide evidence of sufficient funds through which they can support themselves for the first few years in Australia. This is required, as the Australian government does not want immigrants to rely on social welfare and Medicare programs as soon as they arrive in the country.
If you have been nominated by an employer or a family member, then attach the documents that corroborate your job confirmation or relationship. Further, you also need to substantiate your work experience, educational qualification, age, character, and health through relevant documents. Entrepreneurs who have applied for a business visa must provide evidence of sufficient funds that they are going to invest in Australia.
Tip #4 Do not Commit Fraud
In case you are caught deliberately providing false or misleading information about yourself, then your application will be rejected. Further, you won't be able to apply again for the next 10 years. In cases where applicants receive their permanent residency or visa by providing false information, the applicant will be deported as soon as discrepancies are. Further, the authorities may impose fine on you.
Tip #5 Select Visa Program Wisely
Each visa program has different parameters on which candidates are ranked. Further, the target intake of immigrants and refugees is pre-decided. So due to the limited number of seats, it becomes essential for users to clear all parameters for a visa program. Also, if applying for a work visa, ensure that you have selected the correct occupation category. The occupation category list released by the immigration department of Australia is quite long. Various categories with similar names further increase the confusion.
Tip #6 Get in Contact with a MARA Agent
Immigration agents registered with MARA (Migration Agents Registration Authority,) can help you through the entire application process. These agents can provide specialized assistance for Australian immigration. They possess extensive knowledge of Australian immigration system. Further, you can even register complaints about MARA agents with officials. Hence, they will never dupe you.
Conclusion
The cost of a revoked visa application is usually quite high for applicants. They need to invest both time and money all over again. Follow the aforementioned tips to easily get your visa application approved. Australia still has a very liberal viewpoint on immigration. While many countries are closing down their borders, Australia is moving in the opposite direction. So, this may be the best time to apply for an Australian visa.
Radvision World Consultancy is a trusted immigration agency for an Australian visa. Over the years, we have consistently delivered results to our clients. Our MARA registered agents can assist you in filing visa applications, gathering documents and selecting the most suitable visa program. Further, they will check the consistency of all the information provided by you.

About Raj Kishore
I am a digital marketing consultant at Radvision World Consultancy. I've been worked in digital marketing since 2010. My core area of expertise is lead generation and conversion optimization for small & startup businesses.