Best UK Tourist Visa Consultants in Delhi
Things You Need to Know About UK Travel Visa
The UK, as a country has always proven to be a great travel destination. It offers a plethora of experiences that no other country can provide. First of all, you only need to know a little bit of English to interact with the local population. This will help you in easily exploring the culture of the UK. The UK is definitely diverse as it amalgamates multiple other countries including Wales, Scotland, England and Northern Ireland.
Big Ben has always attracted a lot of eyes. Also, you'll love the Buckingham Palace. You can also visit the British Museum and Churchill War rooms for a more educational visit. London is flushed with many luxurious restaurants. You can take a black cab to travel around the town. Black cab drivers in London have something unique about them and that is their knowledge of geography. They need to pass the world's toughest taxi test in order to be eligible for driving a black taxi.
Yorkshire is is a pure paradise. You can take boat rides in rivers nested between lush green forests. Yorkshire should definitely be on your list if you want to enjoy a placid vacation with your loved ones.
Of course, there are a lot of places to choose from when it comes to the UK. Instead of being overwhelmed by the number of options, you should explore a few places you have always wanted to go.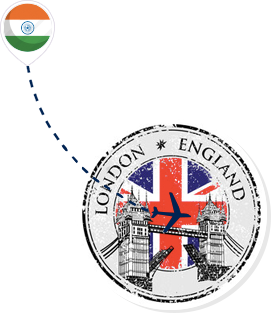 Looking to Apply for UK Tourist Visa? Follow these Visitor Visa Application Process to visit United Kingdom
Application process for Standard Visitor Visa is quite lucid. Prior to the launch of this visa category, people needed to apply for a very generic travel visa. Now, through the Standard visitor visa, you can travel to UK if you want to:
Travel in UK
Meet friends and family in UK
Take part in events and business meetings
Go for short term medical procedures and treatments
You can only apply 3 months prior to your date of travel. Also, your application will be processed within 3 weeks. You can stay in UK for up to 6 months and can file for visa extension.
Want to Get Visas for Travel to UK? Read the Eligibility Criteria and Requirements for the UK Tourist Visa
Eligibility criteria are as follows:
A Valid Passport
Prove you're visiting UK for a short period of time.
Health Certificate
Consent from parents if you're under 18
Funds to support self during the stay in UK
Further, you'll also have to provide the date on which you're planning to travel to the UK and the date you've planned for departure. In some cases, you may have to provide your travel records for past 10 years.
Why is the Radvision World Best UK Visitor Visa services Agency? Here Are Reasons Why Radvision World Is One Stop Solutions for the UK Visitor Visa or Tourist Visa Services in Delhi, India
Radvision World has always endeavored to provide the best immigration services. Our team of certified immigration agents can file visa applications for visa categories including:
Travel Visa
Work Visa
Family Visa
Business Visa
Entrepreneur Visa
Study Visa
We've helped many of our clients through their UK travel visa application process. During the entire process, our UK travel visa agents filled and filed all necessary application forms and submitted all appropriate and required documents.
To know more or for help with UK travel visa, Contact us or call us at 011-40049550