Express entry can be dubbed as one of the most simplified immigration programs in the world. To ease and facilitate immigration, the government of Canada has been simplifying immigration rules. This won't only help in curbing the negative impact of an aging population, but will also provide Canada with a young workforce that can be a boon for their economy. Also, we at Radvision believe that it is one of the best times for moving to Canada as the requirements and score for receiving an ITA have been rapidly falling over the years.
Tip #1: Use the CIC Checklist
The CIC (Citizenship and Immigration Canada) provides an entire checklist of documents to facilitate the applicants. You can simply go to the desired visa program through which you want to apply and download the pdf of this checklist. Hence, you can easily make sure that you are submitting all the required documents with the visa application.
---
---
Tip #2: Ensure Accuracy of Information
This seems common sense, but we still cannot stress it enough. In fact, there have been many cases in which the application of the candidate was rejected due to inaccurate information. To ensure accuracy, you should prefer electronically filling up the forms instead of handwriting them. Also, do not submit any false information cuz you will get deported if you're caught.
Tip #3: Get Recommendation Letter and Sponsorships
Sponsorships can provide you an edge over most applicants of the Express Entry Program. Still, sponsorships can be hard to find, especially if you don't have a close relative living already living in Canada. You can still get recommendations from qualified individuals for bolstering your position as a productive member of the society.
---
---
Tip #4: Get a Job Offer from a Canada Based Organization
A job offer can significantly boost your CRS (Comprehensive Ranking System) score. You can apply to jobs through various portals. Look for organizations that are providing visa sponsorship, paid relocation or both. Canada also has an Express Entry Job Bank from which companies often offer individuals jobs along with visa sponsorship.
---
---
Tip #5: Stay Updated
Immigration norms aren't carved up in stone and are subject to change. This makes it even more important for applicants to stay updated about the recent happenings in the immigration department of Canada. If you find our blog helpful, then consider subscribing. We'll help you in staying up to date on all this immigration.
To know more, feel free to contact us at 011-65554182 (Toll-Free.)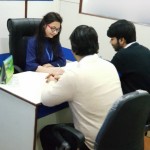 About Sneha Kapoor
Sneha Kapoor is a senior case manager at Radvision World, a certified and trustworthy immigration agency in Delhi for for overseas immigration process from India.
Twitter •