Best US Work Visa Consultant in Delhi for Indians
Many cities in the US such as Silicon Valley house today's leading organizations and startups. Most of the Fortune 500 countries are headquartered in the US. Further, there are multiple fields in which you can find work. While most countries have become a hub for just IT organizations, this isn't the case in the US. From financial to fitness, all industries are booming and that too at quite a rapid rate.
An unemployment rate of 4.1% corroborates the facts that the US has a fairly stable economy and provides ample work opportunities to citizens and immigrants. Also, labour laws protect employees from unfair trade practices by employers. You'll only have to work 5 days a week in most jobs. Plus, US stays at the forefront of technological innovation. Hence, you'll have the opportunity to learn about the latest tools of your trade.
Apart from work, US also has excellent healthcare services. Educational institutions of US like Harvard, Wharton, Stanford and so on are reputed around the globe.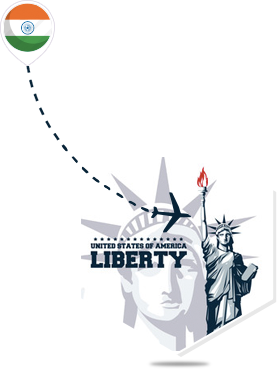 Looking to Apply for USA Work Visa? Follow the Work Visa Application Process to Working in the United States
You can apply for a work visa only after acquiring a job from a US based employer. The employer will nominate you for a visa category based on job offer. The most common of such visas is the H1-B visa. Your employer will apply for your work visa via the I-140 form. Once approved, you'll be able to live and work in US as a skilled worker.
Acquiring a US work visa can be arduous. Special status jobs can make things easier. You can find about these jobs by contacting us.
Want to Get Your US Work Visa Approved Quickly? Read the Eligibility Criteria and Requirements for the US Work Visas
For most work visa categories, you need to fulfill the conditions mentioned below:
Proficiency in English (tested through authorized tests like IELTS and TOEFL)
Nomination by US based employer. The employer will have to nominate you by filing an I-140 visa application.
Passport that is valid for next 6 months
Character and Health Certificates
Evidence of funds to support self and dependents for the first few years after immigrating.
Looking for the Best USA Work Visa Services Consultants in India? Here are the Top Reasons Why Radvision World is the Best USA Work Visa Consultancy
Everyone who has ever applied for US visas knows that it can be a difficult and lengthy process. The crisis with 'dreamers' has further deteriorated the situation. Hence, it is always better to consult US work visa experts.
As a US visa consultancy, we will:
Identify the best visa program according to your qualifications and requirements.
Prepare you for immigration interview and language proficiency test
Fill and file visa application form with US work visa authorities.
Keep you updated about recent changes in immigration system that may affect you.
Contact us for US Work Visa services today. Call now 011-40049550 to get expert advice.