Best Australia Permanent Residency (PR) Visa Consultant in Delhi, India
If you are looking for a country which gives the permanent resident name to non-citizen, then Australia is the best choice. Australia is the country from here you can obtain permanent Visa to-live-and-work there for an indefinite time. Radvision world Consultancy is one of the best Australian PR visa consultants in Delhi that is very well-known for its consultancy provide across all India who require a visa, especially Indians.
Before applying a permanent residency for Australia, you should know some statics about PR visa. As you are a newcomer, you should be guided by the best consultant. And that's the point, Radvision World Consultancy is here to consult you.
The Australia permanent residency process is highly systematic and organized in reference to humane core factors along with educational factors. If you are a permanent visa holder in Australia, you will be considered as a permanent resident. You can live, work or study without any restriction.
Here, you will get most of the rights of a citizen, but some differences will make you count as a permanent resident.
1. In most of the cases, a permanent resident cannot vote in Australian Government elections. While a citizen has the right to vote in elections.
2. If permanent resident wishes to travel internationally, they have to ensure if they have a permanent visa with valid travel authority. A citizen of Australia has an automatic right to enter in Australia.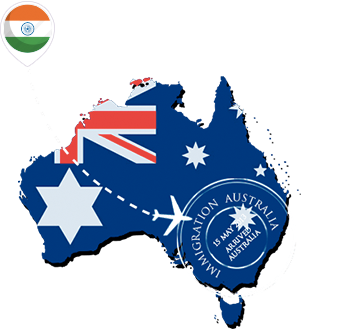 Australian Permanent Residency Scheme
Top Benefits of Having an Australian PR Visa
Australian Permanent Residency Visa offers several benefits to its permanent visa holders, like:
1 Legal entitlement to work/live in any part of Australia for indefinite time.
2. Can take the advantage of few social security benefits.
3. Can sponsor other family members for temporary or permanent visa
4. If they want to get the citizenship of Australia, they can apply for it after fulfilling the required criteria
5. Working in Australia ends up simpler with a Permanent Resident Visa
6. With a permanent visa in Australia you also, enjoy unlimited freedom to pursue the course of study that you prefer
7. Permanent residents in Australia can enjoy is the health care entitlement
8. Eligibility to sponsor your relatives for the acquisition of permanent residence
9. A permanent resident of Australia has the right to travel to New Zealand and apply for a New Zealand Visa.
What is Australia Permanent Resident Visa?
Australia Permanent Resident Visa is the proof that you are living in Australia legally as the permanent residence by the government permission. It helps you to stay in Australia for an indefinite period of time. It gives you the eligibility to work and live there like other citizens. With the help of PR, you can sponsor your family members for a temporary or permanent visa in Australia.
Although a permanent resident has most of the rights and benefits like a citizen there are some benefits which vary from city to a permanent resident. Some benefits may differ according to the visa type you applied.
To obtain the Australia Permanent Visa through skilled migration, you should score enough points in the evaluation grid. Minimally, a candidate has to score 60 points comprising age, work, qualification, experience etc.
Australian Permanent Residency Visa Subclasses Under the Skilled Migration Program
Australia PR has categorised skilled migration, that are:
1. Skilled Independent Visa(Subclass 189):
Australia Independent visa is the most famous skilled migration visa across the world. This visa is applied by those candidates who are not sponsored by any employer, state or territory or family member living in Australia.
Candidates who are skilled and qualified in education and experience may apply for this visa. You have to score at least 60 points in skilled migration. Qualification of skilled migration is crucial as it enables an applicant to apply for subclass 189 visa.
If an applicant got qualified, he needs to pick up an occupation from Medium and Long-Term Strategic Skill List. The applicant also needs to submit Expression of Interest(EOI) through Skills. You-may-apply-for-EOI while-living-in Australia.
If the government of Australia finds your profile is suitable for their country, they will notice you via Invitation to Apply (ITA) for Australian Permanent Resident.
Radvision World helps you to apply subclass 189 visa by its wide area of connections. We specially take care that our visa appliers should not face any problem in other countries.
2. Skilled Nominated(Sponsored) Visa( Subclass 190):
Australia Nominated Visa is applied by those applicants who are sponsored by an employer or family member living in Australia and has qualified the skilled migration point test with at least 65 points.
In order to apply for this visa, you have to choose an occupation from the Australian occupation demand list. Submit an Expression of Interest (EOI) through Skill Select online for confirmation of your visa.
If the government likes your application, you will get an ITA. You have a minimum time of 60 days to apply for 190 Visa after getting the invitation.
If you have a relation in Australia, that's good. And if you don't have, then don't worry. Come to Radvision, we will get sponsorship for you.
3. Skilled-Regional(Provisional)-Visa:
Skilled Regional Visa Subclass 489 is a four-year-provisional-visa that allows the applicant-to-live-and work-in-a-regional area or metropolitan area of Australia to get Permanent Residence.
An applicant, who wants to work in a specific region or low population area and have relative in the designated area of Australia, may apply for this visa. If you live or work here up to 4 years, you will become eligible to obtain the permanent residence.
Firstly, choose your Expression of Interest through Skill Select online. If you are found eligible, you will get an Invitation to Apply with a minimum time period of 60 days.
Australia Permanent Resident Requirements for an Indian Citizen:
If the applicant is an Indian citizen, he must score well in Skilled Migration Point Test. He must provide all the documents required for the process of applying for PR Visa. A few required documents are as follows:
1. Education Documents and Certificates
2. Work Experience Certificates
3. Sufficient Language Proficiency
4. Traveling Documents
At the time of selecting a Visa from several Visa, you are advised to select the right Visa category according to your credential. In this process, you can take the help of consultancy.
Radvision World Consultancy is a very famous consultancy providing company that helps you in selecting the right Visa for yourself so that you have no struggles in coming days in Australia.
Permanent Visa Categories for Indians:
Australia provides more than 30 categories of Visa among which you can select one matching your credentials. Different categories are designed and developed for different kind of aspirants. Here's a list of most popular categories which are considered to be the faster categories to get Permanent Residency:
1. Skilled Independent Visa (Subclass 189)
2. Skilled Sponsored Visa (Subclass 190)
3. Skilled Regional Visa (Subclass 489)
4. Investors Visa (Subclass 891)
5. Business Visa (Subclass 890)
6. Business Talent Visa (Subclass 132)
7. Partner Visa
8. Parent Visa
9. Child Visa
If you got stuck in the list of categories of Visa, don't worry.
Radvision World Consultancy is an established and fastest growing consultancy to provide its services to those applicants who are especially from India and want to migrate Australia permanently or temporarily. Get consultancy with Radvision World and make your Visa application process smoothly.
How Radvision World helps you to obtain an Australian PR Visa easily?
Radvision World Consultancy is one of the fastest growing Australia Immigration and Visa Consultancy in New Delhi, India. Experts of Radvision help you in selecting the right visa and visa application process. You will get the right pathway for migrating in Australia.
Get in touch with experts and know a detailed permanent visa process to Australia with the best consultancy.