by the promise of a better
skilled & affluent individuals from various corners choosing USA Immigration
This offers dynamic and contemporary lifestyle migrations, exploring the expectations and aspirations which inform and drive migration alongside the realities of life within the destination. US immigration and staying in the United States as a permanent resident is a significant decision.
United States of America is the best study and employment destination in the whole world owing to its dynamically developed economy, high standard of living and eminent healthcare services.
Generally, the person living outside US should be sponsored by a family member who is a US citizen, a permanent resident or an employer. The application for a US visa, should be first filed at U.S. Citizenship and Immigration Services (USCIS). Becoming a permanent residence vary by category and depend on the manner in which you are planning to enter U.S.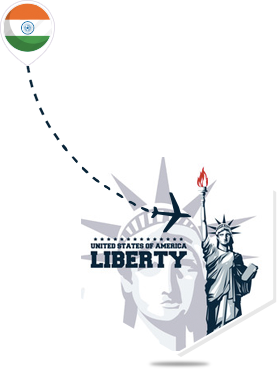 Scheduled to USA?
Check out which visa to apply for
favourite destination among international immigrants
USA is one of the most ethnically diverse and multi-cultural nation
which allows students and professionals from across the world to mix with people of different cultures, mindsets and share their thoughts and learn from each other. The economy and society encourages US immigration and allows immigrants to think, to do research and pursue the career of their choice.
With good employment opportunities and high standard of living, the United States is one of the most preferred countries in terms of liveability. The employers in US offer a lot of perks to their employees and the universities have a great infrastructure and facilities of research.