single as well as group personalities
Immigration is fast growing organization to give the permanent and temporary settlement service
During the country visit, there is also going the bilateral conversation to give the mutual benefit to both geographical regions either it belong to he developed or developing region. In this current scenario, there should be continuing the well-defined relationship between India and Malaysia.
Both countries are the member of the G-15 and common wealth member as well. Being the member of the G-15, they are committed to improve the living standard and integrate the employment possibilities at one place. Seeing this tentative advantage, various minds collapse to take direct and indirect entry by any hook and crook.
Always relocation in the different does mean to seek out the opportunity to get the employment, but also they should have to take away from the hustle bustle life of the urban region. To reside in this imagination for the long time, they need the tourist's visa to get touch of the locality of Malaysia region. Malaysia is also know for the student hub, here so many student come for higher education. And so many instituted you can see where you can get all type of course available for you in study.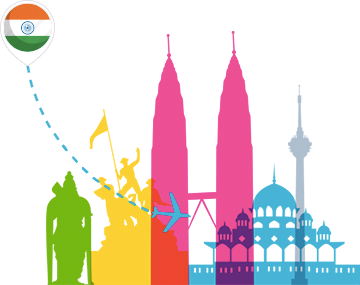 From immigrate to Malaysia service
The person who want to achieve in the career graph, must make the communication process to go on official location of rad vision or just through visiting their each and every their internal linking. From immigrate to Malaysia service; we follow the unique approach from other competitor to give side to any obstacle.
Do not make any suspicion service from us because our professional has a sense of ethics to give the abroad settlement in the most appropriate way. Being the outstanding performer for offering the permanent residency in the Malaysia region, we firstly make the hierarchy to identify professional skills, talent and capabilities.
From the couples of the years, forwarding this service to all users
Being the best immigration services provider in Delhi for Malaysia
Thereafter, we make match with talent, qualification and experience makes match with their growing economy or not. After taking the brief review and analysis, we find out the candidates capacity matches with the Malaysia region. Ifthese features match with their criterion, we do not leave any stone unturned to give theexpected visa with the aid of the shortest route.
From the couples of the years, our professional is attending to forwarding this service to all users. Being the best immigration services provider in Delhi for Malaysia, we have already catered the requirement of the various persons. As an individual is taking service from us, they should not have to worry about to completing application formalities. From us, you will able to do work with the interruption of the government official and live in the graceful way.