Best Dubai Immigration and Visa Services Consultancy in Delhi, India
An Overview of Dubai Immigration and Visa Services
Dubai, due to its strategic geographical location and plentiful oil reserves, is one of the most developed states in the world. The luxurious ambience coalesced with affordable housing, makes it a great destination for immigrants. A cornucopia of shopping complexes, hotels and adventure parks enable residents to enjoy their life.
Still, the best thing about Dubai is Tax-Free Salary. Yes, you read it right. There is no income tax in Dubai, so you'll keep all the money you get. Further, purchase of amenities is untaxed, thus giving you additional purchasing power.
Cultural diversity in Dubai will enable you to taste cuisines from all around the globe. Further, you'll find it easier to integrate into the society. Despite being an Islamic city-state, the rules and regulations are lax. You can, without any interruption practice your religion. Also, there are plenty of temple, mosques, churches, etc in Dubai.
The money from oil enabled Dubai to construct state of the art infrastructure. Burj Khalifa embodies a pinnacle of human achievement. Plus, the connectivity around the state is good. You don't have to purchase or even rent an automobile. You can always get a taxi.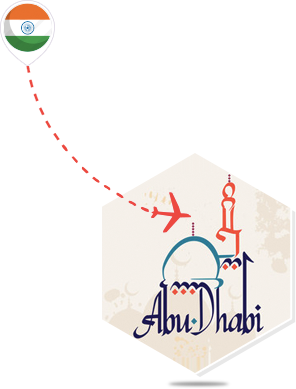 care all the immigration in Dubai
In the entire UAE has there own General Directorate of Residence & Foreigners Affairs it is also know as in past Department of Naturalization and Residency. This is take care all the immigration in Dubai such as;  issue and renew UAE passports for UAE nationals, entry visa permit related issues and all the other service which come under to give permission to go and live in Dubai and other place of UAE.
Dubai Immigration Visa Application Process from India
Residence permit is where every applicant should start from. Only after acquiring the residence permit, can you should apply for a work permit. You residence permit will be used for authentication of all purchases made by you. Plus, you'll have to show your residence permit when renting a house in Dubai.
If you're applying for a work permit, then you'll need a job. Your Dubai based employer will be responsible for nominating you. Once you are nominated, you need to file necessary paperwork for immigration.
A health check-up is necessary for getting any permit to the UAE. After getting your health certificate and job nomination, you can apply for a work permit. Once you do that, you'll need to obtain a residency permit. Further, you'll have to show evidence that you have required qualification and work experience for the job you applied.
Lastly, you'll need a valid passport which will not expire for at least the next 6 months.
Eligibility Criteria for Dubai Immigration Visa for Indians
For most visa categories, you need to fulfill the conditions mentioned below:
Live, travel and work in Dubai.
Valid passport along with other required documents
Funds to support self for the first few years in Dubai
For visa categories in which candidates are nominated by employer, family member, institutions and so on, the document proving the nomination must be provided.
Necessary prerequisites like qualification and work experience for the job you have applied.
Character and health certificates proving your qualification
Top Reasons Why Radvision World is India's Best DUBAI Immigration and Visa Consultants to Migrate DUBAI!
Finding a good Dubai visa consultancy can be arduous. You may be left with agents who do not have any prior experience of filing applications for Dubai visa. This may lead to a lot of wasted resources.
We at Radvision house experienced Dubai visa consultants. Our Dubai visa consultants can guide you through the following visa permits and more.
Work permit
Entrepreneur visa
Travel permit
Residence Permit
Family visa
Dependent Visa
Student Visa
Also, our Dubai Visa consultants will:
Help you in finding a job in Dubai
Optimally file all immigration paperwork for you.
Minimize the cost incurred in the entire Dubai visa application process
Help you in learning about the culture of Dubai so that you'll be able to integrate well in their society.
Contact us for Dubai Visa services today. To get free advice call us to 011-40049550.